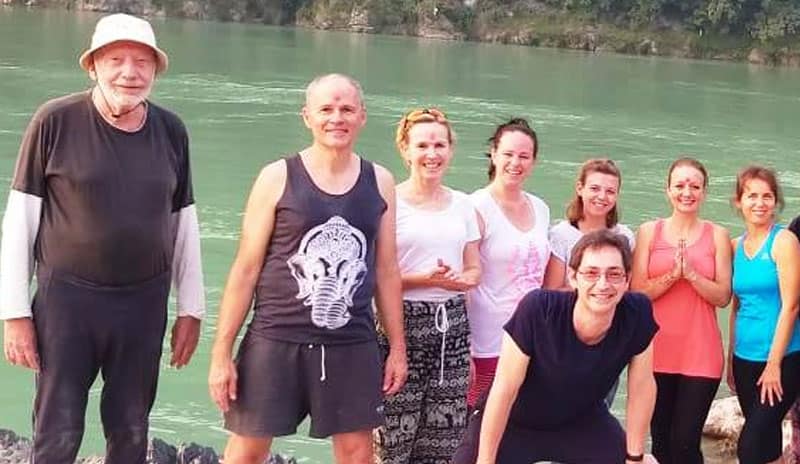 14 Days Yoga Retreat
Duration :

14 Days

Language :

English

Module :

Residential with Meals

Level :

Beginner to Intermediate

Yoga :

Include

Meditation :

Include

Excursions :

Include
Join yoga Retreat Program
14 Days Yoga Retreat In Rishikesh
Shoolin Yogpeeth is a positive place with lots of smiling faces and is ready to offer you 14 days of Yoga Retreat Rishikesh. It is an extreme day Yoga Retreat in Rishikesh that includes 13 nights and 14 days accommodation. Along with the prior quality of food and excursions.
The 14 day Yoga Retreat brings you the traditional spirit of Yoga. Our program is a gateway of sorts through which you can experience the yogic life and explore our place.
It doesn't matter whether you're a beginner or an expert, our programs include the best Yoga. And meditation practices best suited to each individual's needs and goals. The best yoga gurus are available here with a great experience. And are always ready to give their 200% to our students.
Shoolin Yogpeeth offers you the opportunity to learn Yoga in its original place during our 14-day Yoga Retreat. We organized our Yoga Retreat to enhance your inner strength 14-day Yoga Retreat. Because- we know that in 21-days anyone can change their habit, and transform their body to another level of inner strength.
This retreat is a specially designed program for those who want to learn basic Yoga. And meditation capacities to seize your Yoga practice to the next level. So come, join us and energize your mind, body, and soul to prepare yourself for the new challenges that come your way.
Our retreat explores the concept of Ayurveda as one of the highlights of the program. The curriculum also integrates Yoga asanas and pranayama practices daily to balance students' exercise.
Our 14 days Yoga Retreat in Rishikesh program is for all. Those who are always ready for a magical change in their life. We welcome everyone from all over the world, whether you are a beginner, intermediate, or advanced in Yoga.
Our wellness retreats and vacations are- designed with Ayurveda, Yoga, and Meditation. We aim at giving you the foundation for a healthy and happy life.
This retreat enables you to integrate many aspects. And benefits of Yoga into asanas, meditation, pranayama, deep relaxation, yogic practices, and more into your daily life.
You will have substantial and personalized Hatha and Ashtanga Yoga speeches. No matter your age and experience, along with detox and de-stress therapy.
The 14 days (two-week) retreat at Shoolin Yogpeeth includes a well-measured mix of Yoga practice, local sightseeing, and many gratifying activities. Below are the major highlights and benefits of our wellness retreats in Rishikesh.
Course Date
01 Apr - 15 Apr 2022
01 May - 15 May 2022
01 Jun - 15 Jun 2022
01 Jul - 15 Jul 2022
01 Aug - 15 Aug 2022
01 Sep - 15 Sep 2022
Course Duration
14 Days
Highlight Of 14 Days Yoga Retreat
Daily Yoga asana classes start till medium level.
Daily Shat-Kriya and Pranayama practice.
Introductory Indian philosophy, especially Samkhya and Yoga.
Philosophy of Ayurveda.
Main components of Ayurveda and lifestyle.
Instruction in relaxation and meditation practice.
Benefits Of 14 Days Yoga Retreat
A great place to relax from daily life.
Yoga practice will help you fight against any chronic disease.
It enables the cure of insomnia.
It helps diminish your anxiety or anger.
It helps to overcome the general weakness or fatigue of your body.
It helps to speed up your metabolism.
14 Days yoga Retreat in Rishikesh -Schedule
Day 01
| Time | Work |
| --- | --- |
| 07 AM - 8:30 Am | Hatha Yoga Asana |
| 09 AM - 10 AM | Breakfast |
| 10:30 AM - 11:30 AM | Jungle Walk |
| 12 PM - 02 PM | Lunch |
| 02 PM - 04 PM | Self Meditation & Relaxation |
| 04 PM - 04:15 PM | Ayurvedic Tea |
| 04:30 PM - 06:00 PM | Ashtanga Yoga |
| 06 PM - 07 PM | Mantra Meditation |
| 07 PM - 08 PM | Dinner |
Day 02
| Time | Work |
| --- | --- |
| 06 AM | Wake Up { With Drinking hot water } |
| 06:30 AM | Morning Tea |
| 07:30 AM - 08:30 AM | Hatha Yoga |
| 08:30 PM - 09 AM | Pranayama |
| 09 AM - 10 Am | Breakfast |
| 11 AM - 12 PM | Ayurvedic Massage |
| 12:30 PM - 02 PM | Organic Lunch |
| 02 PM - 04 PM | Relaxation & Self Thinking |
| 04 PM - 04:15 PM | Tea Time |
| 06 PM - 07 PM | Meditation |
| 07 PM - 08 PM | Dinner |
Day 03
| Time | Work |
| --- | --- |
| 06 AM | Wake Up |
| 06:30 - 07 AM | Morning Tea |
| 07 AM - 08:30 AM | Hatha Yoga Asana |
| 08:30 PM - 09 AM | Pranayama |
| 09 AM - 10 Am | Breakfast |
| 10 AM - 11:30 PM | Basic Yoga Philosophy & Affirmations |
| 01 PM - 02 PM | Lunch |
| 02 PM - 04 PM | Yoga Nindra Meditation |
| 04:15 PM - 05 PM | Tea Time |
| 05 PM - 07 PM | Ganga Arti |
| 07 PM - 08 PM | Dinner |
Day 04
| Time | Work |
| --- | --- |
| 06 AM | Wake Up |
| 06:30 Am - 07 AM | Morning Tea |
| 07 AM - 08:30 AM | Hatha Yoga Asana |
| 08:30 AM - 09 AM | Pranayama |
| 09 AM - 10 Am | Breakfast |
| 11 AM - 12:30 PM | Basic Yoga Philosophy |
| 01 PM - 02 PM | Lunch |
| 02 PM - 04 PM | {Music Meditation} & Relexation |
| 04 PM - 04:15 PM | Tea Time |
| 04:30 PM - 06 PM | { Disease Treatment} & Light Yoga Asana |
| 06 PM - 07 PM | Meditation & Healing |
| 07 PM - 08 PM | Dinner |
Day 05
| Time | Work |
| --- | --- |
| 06 AM | Wake Up With hot drinking water |
| 06:30 - 07:30 AM | Shatkarma { Jal Neti } |
| 07:30 AM - 09 AM | Hatha Yoga Asana |
| 09 AM - 10 AM | Breakfast |
| 10 AM - 11 Am | Workshop |
| 11 AM - 12:30 PM | Ayurvedic Massage |
| 01 PM - 02 PM | Lunch |
| 02 PM - 04 PM | Yoga Nidra |
| 04 PM - 04:30 PM | Tea & Light Snacks |
| 04:30 PM - 05:30 PM | Powar Yoga |
| 05:30 PM - 07 PM | Spiritual Talk With Yoga Guru |
| 07 PM - 08 PM | Dinner |
Day 06
| Time | Work |
| --- | --- |
| 06 AM | Wake Up With hot drinking water |
| 06:30 - 07:30 AM | Shatkarma { Jal Neti } |
| 07:30 AM - 09 AM | Hatha Yoga Asana |
| 09 AM - 10 AM | Breakfast |
| 10 AM - 11 Am | Workshop |
| 11 AM - 12:30 PM | Ayurvedic Massage |
| 01 PM - 02 PM | Lunch |
| 02 PM - 04 PM | Yoga Nidra |
| 04 PM - 04:30 PM | Tea & Light Snacks |
| 04:30 PM - 05:30 PM | Powar Yoga |
| 05:30 PM - 07 PM | Spiritual Talk With Yoga Guru |
| 07 PM - 08 PM | Dinner |
Day 07
| Time | Work |
| --- | --- |
| 06 AM | Wake Up With hot drinking water |
| 06:30 - 07 AM | Morning Tea |
| 07 AM - 08:30 AM | Hatha Yoga |
| 08:30 AM - 09 AM | Prnayama |
| 09:30 AM - 10 Am | Break Fast |
| 11 AM - 12:30 PM | Waterfall Visit |
| 01 PM - 02 PM | Lunch |
| 02 PM - 04 PM | Free Time |
| 04 PM - 04:15 PM | Tea time |
| 04:30 PM - 06 PM | Ashtanga Yoga Class |
| 06 PM - 07 PM | Relaxation & Meditation |
| 07 PM - 08 PM | Dinner |
Day 08
| Time | Work |
| --- | --- |
| 07 AM - 8:30 Am | Hatha Yoga Asana |
| 09 AM - 10 AM | Breakfast |
| 10:30 AM - 11:30 AM | Jungle Walk |
| 12 PM - 02 PM | Lunch |
| 02 PM - 04 PM | Self Meditation & Relaxation |
| 04 PM - 04:15 PM | Ayurvedic Tea |
| 04:30 PM - 06:00 PM | Ashtanga Yoga |
| 06 PM - 07 PM | Mantra Meditation |
| 07 PM - 08 PM | Dinner |
Day 09
| Time | Work |
| --- | --- |
| 06 AM | Wake Up { With Drinking hot water } |
| 06:30 AM | Morning Tea |
| 07:30 AM - 08:30 AM | Hatha Yoga |
| 08:30 PM - 09 AM | Pranayama |
| 09 AM - 10 Am | Breakfast |
| 11 AM - 12 PM | Ayurvedic Massage |
| 12:30 PM - 02 PM | Organic Lunch |
| 02 PM - 04 PM | Relaxation & Self Thinking |
| 04 PM - 04:15 PM | Tea Time |
| 06 PM - 07 PM | Meditation |
| 07 PM - 08 PM | Dinner |
Day 10
| Time | Work |
| --- | --- |
| 06 AM | Wake Up |
| 06:30 - 07 AM | Morning Tea |
| 07 AM - 08:30 AM | Hatha Yoga Asana |
| 08:30 PM - 09 AM | Pranayama |
| 09 AM - 10 Am | Breakfast |
| 10 AM - 11:30 PM | Basic Yoga Philosophy & Affirmations |
| 01 PM - 02 PM | Lunch |
| 02 PM - 04 PM | Yoga Nindra Meditation |
| 04:15 PM - 05 PM | Tea Time |
| 05 PM - 07 PM | Ganga Arti |
| 07 PM - 08 PM | Dinner |
Day 11
| Time | Work |
| --- | --- |
| 06 AM | Wake Up |
| 06:30 Am - 07 AM | Morning Tea |
| 07 AM - 08:30 AM | Hatha Yoga Asana |
| 08:30 AM - 09 AM | Pranayama |
| 09 AM - 10 Am | Breakfast |
| 11 AM - 12:30 PM | Basic Yoga Philosophy |
| 01 PM - 02 PM | Lunch |
| 02 PM - 04 PM | {Music Meditation} & Relexation |
| 04 PM - 04:15 PM | Tea Time |
| 04:30 PM - 06 PM | { Disease Treatment} & Light Yoga Asana |
| 06 PM - 07 PM | Meditation & Healing |
| 07 PM - 08 PM | Dinner |
Day 12
| Time | Work |
| --- | --- |
| 06 AM | Wake Up With hot drinking water |
| 06:30 - 07:30 AM | Shatkarma { Jal Neti } |
| 07:30 AM - 09 AM | Hatha Yoga Asana |
| 09 AM - 10 AM | Breakfast |
| 10 AM - 11 Am | Workshop |
| 11 AM - 12:30 PM | Ayurvedic Massage |
| 01 PM - 02 PM | Lunch |
| 02 PM - 04 PM | Yoga Nidra |
| 04 PM - 04:30 PM | Tea & Light Snacks |
| 04:30 PM - 05:30 PM | Powar Yoga |
| 05:30 PM - 07 PM | Spiritual Talk With Yoga Guru |
| 07 PM - 08 PM | Dinner |
Day 13
| Time | Work |
| --- | --- |
| 06 AM | Wake Up With hot drinking water |
| 06:30 - 07 AM | Morning Tea |
| 07 AM - 08:30 AM | Hatha Yoga |
| 08:30 AM - 09 AM | Prnayama |
| 09:30 AM - 10 Am | Break Fast |
| 11 AM - 12:30 PM | Waterfall Visit |
| 01 PM - 02 PM | Lunch |
| 02 PM - 04 PM | Free Time |
| 04 PM - 04:15 PM | Tea time |
| 04:30 PM - 06 PM | Ashtanga Yoga Class |
| 06 PM - 07 PM | Relaxation & Meditation |
| 07 PM - 08 PM | Dinner |
Day 14
| Time | Work |
| --- | --- |
| 06 AM | Wake Up With hot drinking water |
| 06:30 - 07 AM | Morning Tea |
| 07 AM - 08:30 AM | Hatha Yoga |
| 08:30 AM - 09 AM | Prnayama |
| 09:30 AM - 10 Am | Break Fast |
| 10 AM - 11 AM | Spritual Talk & Question With Yoga Guru |
| 11 Am - 12 PM | Closing Ceremony |
| 12 PM - 01 PM | Singing,Dancing & Other Actities |
| 01 PM - 02 PM | Lunch |