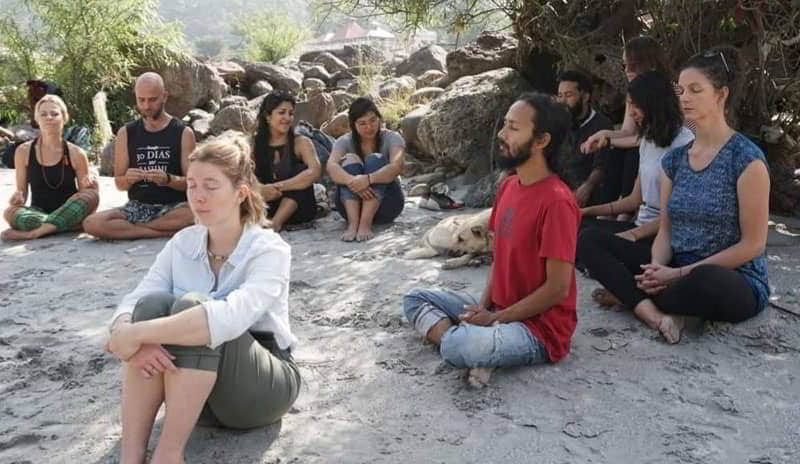 5 Days Hour Yoga TTC
Duration :

5 Days

Language :

English

Module :

Residential with Meals

Level :

Beginner to Intermediate

Yoga :

Include

Meditation :

Include

Excursions :

Include
Join yoga Retreat Program
05 Days Yoga Retreat In Rishikesh
If you need to relax, unwind and slow down for a few days, then the  5 Days Yoga Retreat in Rishikesh is a perfect option. 5 Days Yoga Retreat offers you what you need to assemble a good establishment of bliss. While- respecting your identity and foundation. 
The 5 Days Yoga Retreat in Rishikesh aims to guide aspirants to reveal their hidden urges of spiritual quest. And allow experiencing the serene and peaceful spiritual environment of the Himalayas.
Tranquil and scenic beyond imagination, Rishikesh is a place- where yogis have long come to spiritual enlightenment and intense Yoga practice. Shoolin Yogpeeth offers 5 Days Yoga Retreat opportunities for beginners and advanced students to explore the true path of Yoga and become one with nature.
So the Yoga Retreat program in the lap of the Himalayas is the perfect place to incorporate both Yoga and Ayurveda. "Yoga and Ayurveda meet each other physically, mentally, and spiritually."
So come and experience the power and grandeur of Yoga at Shoolin Yogpeeth. A Yoga school certified by Yoga Alliance, USA. This Yoga school will help you experience Yoga to its roots. And that too with instructors who are skilled in teaching Yoga.
Our 5 (five) days Yoga Retreat will include rejuvenating Yoga sessions & meditation practices. And delicious healthy homemade organic food to restore a perfect balance in you. 
So book your Yoga Retreat in Rishikesh with Shoolin Yogpeeth ahead of time. As the spaces to relive 05 days of your life to discover the comprehensive inner soul truth of learning, settling, and nurturing Yoga quickly at a moderate cost is at the top.
The 5 Days Yoga Retreat at Shoolin Yogpeeth includes a well-measured mix of Yoga practices, meditation, outdoor adventures, and many gratifying activities. Below are the major attractions and benefits of our wellness retreats in Rishikesh.
Course Date
01 Feb - 06 Feb 2022
01 Mar - 06 Mar 2022
01 Apr - 06 Apr 2022
01 May - 06 May 2022
01 Jun - 06 Jun 2022
01 Jul - 06 Jul 2022
Course Duration
05 Days
Highlight Of 5 Days Yoga Retreat
The duration of the Yoga Retreat will be of 5 days.
Yoga classes will provide to you daily. 
Pranayama and breathing practice daily.
Hatha Yoga, Yoga Nidra, and asana practices.
We also furnish Yoga darshan and Meditation sessions.
2 Ayurvedic Massage.
Able to visit Ganga aarti.
Able to visit a waterfall.
We will offer you daily refreshing morning ayurvedic tea.
Anyone of any generation group can apply for this retreat.
Benefits Of 5 Days Yoga Retreat
The perfect place to unclog, slow down that fast pace, and get back in touch with nature.
May you be more relaxed and refreshed than ever.
You can become mentally strong and find inner peace.
It can be a chance to get away from all the hustle and bustle of city life.
You can acquire peace and calmness for the mind, refreshing energy for the body.
You can spend a quality amount of time learning different exercises by your practice.
You can bust out of "normal life" for a period.
You can boost your- practice by taking the time to delve deeper into it.
Reacquaint yourself after feeling disconnected for too long.
5 Days yoga Retreat in Rishikesh -Schedule
Day 01
| Time | Work |
| --- | --- |
| 07 AM - 8:30 Am | Hatha Yoga Asana |
| 09 AM - 10 AM | Breakfast |
| 10:30 AM - 11:30 AM | Jungle Walk |
| 12 PM - 02 PM | Lunch |
| 02 PM - 04 PM | Self Meditation & Relaxation |
| 04 PM - 04:15 PM | Ayurvedic Tea |
| 04:30 PM - 06:00 PM | Ashtanga Yoga |
| 06 PM - 07 PM | Mantra Meditation |
| 07 PM - 08 PM | Dinner |
Day 02
| Time | Work |
| --- | --- |
| 06 AM | Wake Up { With Drinking hot water } |
| 06:30 AM | Morning Tea |
| 07:30 AM - 08:30 AM | Hatha Yoga |
| 08:30 PM - 09 AM | Pranayama |
| 09 AM - 10 Am | Breakfast |
| 11 AM - 12 PM | Ayurvedic Massage |
| 12:30 PM - 02 PM | Organic Lunch |
| 02 PM - 04 PM | Relaxation & Self Thinking |
| 04 PM - 04:15 PM | Tea Time |
| 06 PM - 07 PM | Meditation |
| 07 PM - 08 PM | Dinner |
Day 03
| Time | Work |
| --- | --- |
| 06 AM | Wake Up |
| 06:30 - 07 AM | Morning Tea |
| 07 AM - 08:30 AM | Hatha Yoga Asana |
| 08:30 PM - 09 AM | Pranayama |
| 09 AM - 10 Am | Breakfast |
| 10 AM - 11:30 PM | Basic Yoga Philosophy & Affirmations |
| 01 PM - 02 PM | Lunch |
| 02 PM - 04 PM | Yoga Nindra Meditation |
| 04:15 PM - 05 PM | Tea Time |
| 05 PM - 07 PM | Ganga Arti |
| 07 PM - 08 PM | Dinner |
Day 04
| Time | Work |
| --- | --- |
| 06 AM | Wake Up |
| 06:30 Am - 07 AM | Morning Tea |
| 07 AM - 08:30 AM | Hatha Yoga Asana |
| 08:30 AM - 09 AM | Pranayama |
| 09 AM - 10 Am | Breakfast |
| 11 AM - 12:30 PM | Basic Yoga Philosophy |
| 01 PM - 02 PM | Lunch |
| 02 PM - 04 PM | {Music Meditation} & Relexation |
| 04 PM - 04:15 PM | Tea Time |
| 04:30 PM - 06 PM | { Disease Treatment} & Light Yoga Asana |
| 06 PM - 07 PM | Meditation & Healing |
| 07 PM - 08 PM | Dinner |
Day 05
| Time | Work |
| --- | --- |
| 06 AM | Wake Up With hot drinking water |
| 06:30 - 07 AM | Morning Tea |
| 07 AM - 08:30 AM | Hatha Yoga |
| 08:30 AM - 09 AM | Prnayama |
| 09:30 AM - 10 Am | Break Fast |
| 10 AM - 11 AM | Spritual Talk & Question With Yoga Guru |
| 11 Am - 12 PM | Closing Ceremony |
| 12 PM - 01 PM | Singing,Dancing & Other Actities |
| 01 PM - 02 PM | Lunch |