Yogic Accommodation
A calm and pleasant abode is essential to enrich the benefits and experience of traditional yoga and deepen the incredible sense of being connected to the divine. Accordingly, our ideal abode at the Shoolin Yogpeeth, located at the foothills of the Himalayas and on the banks of the Ganges River, will add to your perfect yogic intelligence and wisdom.
Rooms are available on a private and shared basis and offer the following facilities:
Spacious room
Ample lighting
Attached clean washrooms
Double Bed
Coffee table
Large Closet
Anytime availability of hot/cold water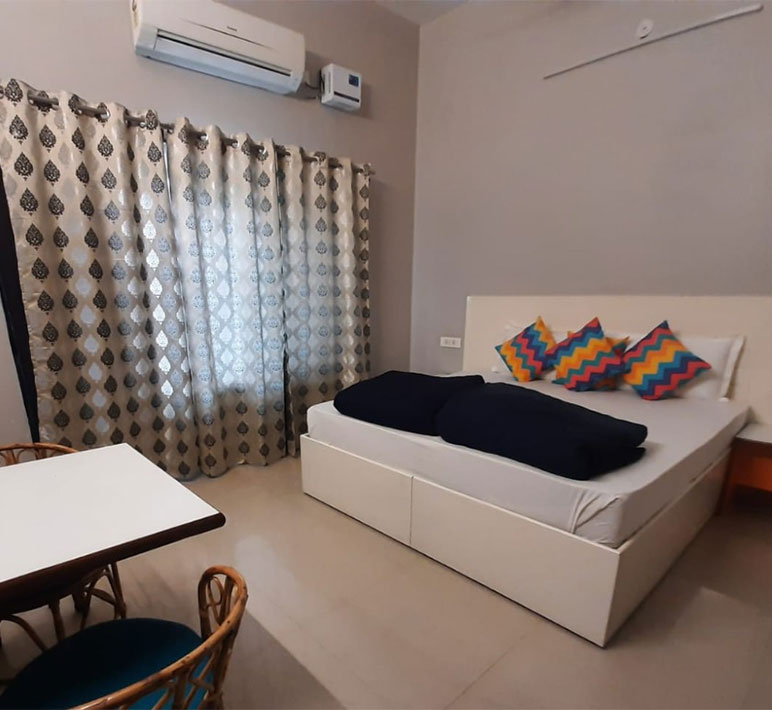 Rooftop:
To further enhance your blissful experience, we have a rooftop terrace that is spacious, open to the sky and offers splendid views of nature.
Special care is taken to ensure safety and health, so each location and facility is sanitized at regular intervals.
We aim to provide a peaceful place for your comfortable and convenient stay where you can rejuvenate your mind, body, and soul.
Just as the soul needs a prosperous body, the body needs a prosperous abode to live in where you can heal, enjoy, and learn at the same time. We have ensured every comfort in our accommodation, where you will have such a pleasant feeling that will touch not only your body but also your soul.
Yogic Sativic Food
As per Ayurveda, for centuries, Indian yogic culture has considered Sattvic food to be highly positive pranic food that gives you an immense amount of energy and enhances intelligence. In addition, it is easy to digest and promotes positive thoughts and satisfaction in the mind, making you calm, peaceful, and refreshed.
So, Shoolin Yogpeeth serves you nutritional Sattvic food, which is made with love with remembrance for the divine, and hence provides natural healing, rejuvenation, and energy to every cell of your body.
The food we serve consists of:
Indian vegetarian food
Cooked with Indian spices
Seasonal and Organic fruits and vegetables
Filtered drinking water
Minimally processed and Prepared at the right temperature
Food Schedule:
06:30 am: Hot Lemon Ginger / Herbal Drink
09:00 am: Breakfast
12.30 pm: Mid-day meal
01:30 pm: Yogic Lunch
05:00 pm: Tea
07:00 pm: Sattvic Dinner
The prerequisite for yoga is a healthy body that can bend, stretch, twist, and is flexible enough to perform each yoga pose or asana perfectly. Hence, keeping in mind the basic physiological needs, Shoolin Yogpeeth serves you nutritious sattvic food, which activates every cell of your body and keeps you physically and mentally fit.
Yoga Hall
The practice of various Yoga Asanas and meditation requires a calm and sacred space to bring you into a peaceful, calm yet energetic state. To meet all these needs, we have a dedicated Yoga Hall at Shoolin Yogpeeth, which provides the bliss of immense positive energy.
Some of the special features of our Yoga Hall are as follows:
Large space
Well ventilated and well lit
Calm and muted colors on the walls for a relaxed state
Yogic and Zen posters to serve as motivational guides
Far from worldly negativity
How To Reach Rishikesh
Book Your Flight to Indira Gandhi International Airport New Delhi ( DEL ), India. This is the nearest International Airport from Rishikesh ( 210 KM ).
If you want to save time, You can book another flight from New Delhi to Dehradun Airport ( Jolly Grant Airport Dehradun - DED - 14 KM from Rishikesh )
We will Provide Free Pickup from Dehradun Airport.
New Delhi to Rishikesh - Arrival by train
Take a train from New Delhi Train Station to Haridwar. From Haridwar,.
We can provide a transfer to Rishikesh. Medium car will cost 1,199 INR, medium luxury car will cost 1,499 INR, and large car will cost 1,999 INR. They can also help book your electronic train ticket in case you find it difficult to book yourself.
New Delhi to Rishikesh - Arrival by taxi
Taxis are always available anywhere in India. The drive from Indira Gandhi International Airport (DEL) to Rishikesh will take around six hours, depending on traffic conditions. You can book your Private Taxi to Reach Rishikesh.
New Delhi to Rishikesh - Arrival by bus
Buses to Rishikesh leave New Delhi from the Kashmiri Gate national bus stand approximately every hour. The bus ride takes about eight hours and costs around 450 INR for air-conditioned buses and 250 INR for buses without air conditioning.